Winemaking is quite a simple business. Only the first 200 years are difficult.
– Baroness Philippine de Rothschild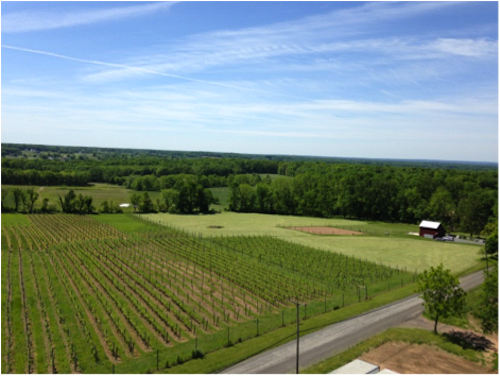 Planting a vineyard in an unproven place is irrational, as anyone who has done will attest.  Yet we sensed something special about this southwest-facing slope on Mount Salem, near Pittstown, New Jersey.  The more we learned, the more we believed that the unlikely was possible.
Our hypothesis was simple: the climate and soil in this part of Hunterdon County is very similar to that of Carnuntum and Burgenland, two of the major winegrowing regions of Austria.  So it made sense to plant grape vines indigenous to that country but, as far as we knew, no one had planted those varieties successfully here.  Indeed, some had failed and others advised strongly against doing so, but we pressed on.
We knew that the slope on our farm is ideal for growing fine wine grapes in a cool and occasionally wet climate, and that our soil of silt/clay/loam – studded with glacial deposits of gravel – was perfect for Austria's indigenous vines.  Thus in 2004 we began preparing farmland that for at least 200 years bore corn, soybeans, hay and peaches, and grazed livestock, so that in April 2005 it could receive its first vines.
We are often asked, "What on earth compelled you to do this?"  While surely irrational, planting a vineyard is also an inspired commitment to the land and people who live in or visit this fine county of Hunterdon, where we raise our children and live our lives.  It is also the first step in making meaningful wines.